Shares of up-and-coming luxury EV producer Lucid Group (NASDAQ:LCID) shed over 15% of their value in the past month. LCID stock slid roughly 14% earlier this month after the release of underwhelming fourth-quarter earnings report.
A lot was riding on that earnings report. The start-up has been the talk of the town after its Air Dream Edition surpassed electric vehicle stalwart Tesla's (NASDAQ:TSLA) range rating. Moreover, it was the first quarter where the company reported revenue from EV sales since going public.
The supply chain troubles across the automotive sector have a lot to do with its production cuts and delays in vehicle launches. However, investors need to look at the bigger picture with the company's robust pre-order growth, international expansion efforts, and focus on ramping up.
The report showed Lucid faltered in multiple areas, but several bright spots point to a much brighter future ahead. Hence, you probably shouldn't give up on LCID stock as yet.
Missing Marks
Let's first look at the negatives with Lucid's fourth-quarter results, where it missed several marks. Firstly, it generated just $26.4 million in revenues during the quarter, missing analyst estimates by more than $30 million. Moreover, it delivered just 125 units of the Air Dream last year.
Management had stated that it would be building 520 Dream Editions before delivering its trim versions. However, at this point, it's well off that mark, which forced it to cut its 2022 production estimate by 6,000 units from the higher end of its guidance. On top of that, its net losses increased roughly threefold during the quarter.
On a more positive front, the company's reservations have been growing aggressively. Customer reservations for its Air model sped past the 25,000 mark during the fourth quarter, a 47% bump from November. If these orders materialize, they could result in over $2 billion in revenues.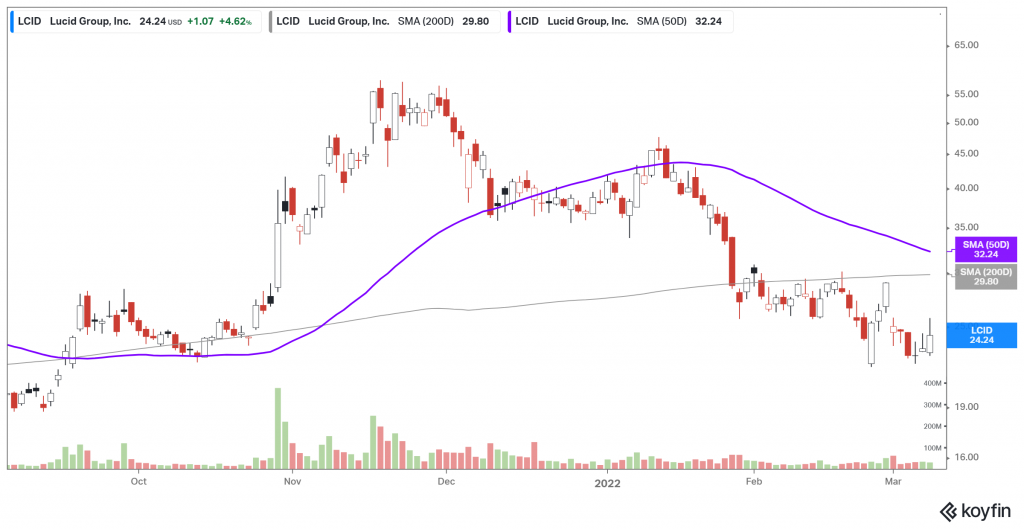 Click to Enlarge
Furthermore, there is a focus on ramping up its production this year and expanding into new territories. Lucid will be expanding its Arizona facility from 34,000 to 90,000 units by 2023. Moreover, it also plans to establish a facility in Saudi Arabia with a peak capacity of 150,000 vehicles.
The kingdom is looking to reduce its oil dependence as part of its "Saudi Vision 2030". The company estimates benefits up to $3.4 billion over the next decade or so. According to Lucid CFO Sherry House, the company will be expanding into Europe and the Middle East while laying the groundwork for the Asia Pacific region.
What to Do With LCID Stock?
LCID stock, like other high-multiple stocks, has taken a hammering over the past few months. A lot has to do with the challenging macro-economic environment facing companies across the globe. Soaring inflation rates, monetary tightening and the Russia/Ukraine war have flipped the script for most firms.
I feel as though investors have overreacted though with Lucid. As shown above, the shares are trading well below both the 50-day and 200-day simple moving averages.
The production forecast was a setback but looked like it was on the cards considering the macroeconomic situation. Moreover, pre-orders on the rise for the company, which points to its exciting long-term potential.
Moreover, after the Air, it plans to launch its SUV, the Gravity. Due to delivery delays of the current backlog, the company has pushed back its launch to 2024.
However, with its foray into the SUVs, it can further increase its market share in the EV realm. On top of that, we have the company's climbing reservations, sensational expansion plans, and production ramp-up to drive its stock price to new heights. Hence investors should bet on Lucid's long-term success.
On the date of publication, Muslim Farooque did not have (either directly or indirectly) any positions in the securities mentioned in this article. The opinions expressed in this article are those of the writer, subject to the InvestorPlace.com Publishing Guidelines.